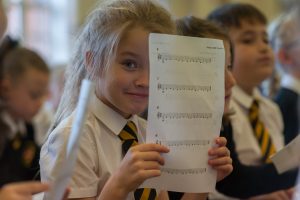 St Nicholas Priory Church of England Voluntary Aided Primary School is a co-educational Church of England Voluntary Aided School and seeks to serve its community by providing excellent and creative education in a Christian setting. Children and staff who attend our school are a part of our community working together to ensure it is a caring, safe and happy place to learn. Believing that all people are created and loved by God, St Nicholas Priory CE VA Primary School has a real and deep concern for each individual, rooted in Christian ethos which welcomes and affirms. Everyone associated with our school is part of its community and are all encouraged to become valued members of a caring and committed team.
As a church school we support our children to understand the Christian faith, its values and ethos which we embed through discussion, Collective Worship, in lessons and through modelling in the way we treat each other and through our behaviour within our school community. Equally, through this strong Christian ethos we strive to meet all our children's spiritual, moral, social and cultural needs.
All staff have high expectations of all our children and this vision is central to school life and crosses all strands of the curriculum and community. St Nicholas Priory CE VA Primary School is above all a Christian community with high standards where everyone is nurtured and valued. Ofsted said that pupil care, guidance and support is a strength of this school.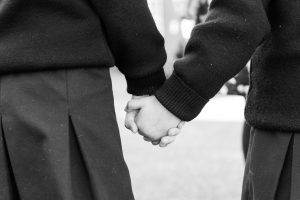 At St Nicholas Priory CE VA Primary School our Christian ethos enables us to support our children to be well motivated, self disciplined individuals who have a strong sense of right and wrong as well as a true concern for others. As an inclusive school we welcome children of any faith believing their attendance will enhance the already varied cultural diversity within our Christian community.
The aims and values of St Nicholas Priory Church of England Voluntary Aided Primary School are:
T o provide an education of the highest quality which prepares today's children for tomorrow's challenges as life-long learners.

To encourage our children to embrace the Christian values that will enable them to live with respect, generosity, integrity and care.

To treat all our children with respect, appreciate individuality, value their contributions and celebrate their successes.

To provide a rich and exciting educational experience which supports all our children to be the best they can be and to support each other to achieve this.

To enable our children to develop spiritually, morally, socially and culturally within the context of the Christian faith, which we believe to be of central importance in our dealings with everyone in our community.

To nurture the development of our children we encourage families to view themselves as an integral part of their child's education, supporting them to appreciate the positive outcomes of working together responsibly as a team.
As a school we are working hard on the following target;
Improve the quality of teaching from good to outstanding by:
Ensuring that class teachers rigorously check the quality of the progress that their pupils make whether they are working in class or with a named adult in another room so that pupils consistently make rapid gains in their learning.

Making sure that pupils can regularly make amendments and improvements to their work following feedback from pupils, teachers and other adults.
Whole School Priorities
Ensure assessment systems are in place that drive accelerated pupil progress, including effective use of data for planning and target setting and point of need intervention.

Develop consistently high expectations across the school leading to good behaviour for learning.

Ensure simple, clear, concise and consistent expectations are in place for teaching and learning and impacting on pupil progress.

Ensure leadership capacity continues to drive the strategic vision to positively impact on pupil progress and attainment.

Raise progress and attainment in Maths at least in line with if not better than ARE. Increase the percentage of children achieving above national including those in the disadvantaged group

Uphold the core values of the school to educate the whole child within the Christian ethos and values, developing the teaching of Religious Education and the participation of children in leading CW