Background:
In March 2013, the government announced that it was to provide funding to improve provision of physical education (P.E.) and sport in primary schools in England, known as the Primary P.E. & Sport Premium. This funding – provided jointly by the Departments for Education, Health and Culture, Media and Sport – is allocated directly to primary schools and the money is to be used to improve the provision of P.E. and school sport.
Please click here to access the government website.
Vision:
P.E. and school sport are a very important part of life at St. Nicholas Priory C.E.V.A. Primary School. We believe that P.E. and school sport contribute to the holistic development of our children and, through participation, our children build and learn more about our key values such as respect, responsibility, collaboration, aspiration & achievement for themselves and others.
Our goal is that all pupils, on leaving St Nicholas Priory, will be physically literate and have the knowledge, skills and motivation necessary to equip them for a healthy lifestyle and lifelong participation in physical activity and sport.
When planning new initiatives, we aim for the changes that are being made to be sustainable so that they will be ongoing once the funding ceases.
Objectives:
We aim to promote the development of P.E. and sport in our school in the following ways:-
Qualified sports coaches to work with our children allowing them to experience a broad range of games, and encourage them to engage with physical activity both in school and at specialist sport facilities
Access a variety of non-traditional sports, for example rock-climbing, boxing, trampolining and kite-flying
Purchase quality professional training to work alongside teachers and improve teaching skills
Access to off-site sporting events, such as competitions, through the use of minibuses
Use off-site sports facilities to challenge the most-able children
Provide quality sporting equipment to engage children with physical activity throughout lessons
Improve the external areas of the school, for example playground markings, to encourage children to participate in games during their free time
Incorporate physical education and sport throughout the curriculum
P.E. & Sport Premium Plan 2018-2019
PE & Sport Premium Plan 2019-2020
Astro-turf at Priory
The children of St. Nicholas Priory C.E.V.A. Primary School have been celebrating the first phase of the installation of astro-turf on the main playground. The Chair of Governors, Mr. Harry Taylor, officiated at the opening ceremony by cutting the ribbon. This all-weather surface has incorporated markings for football, netball and hockey as well as providing a green space for the children to play in.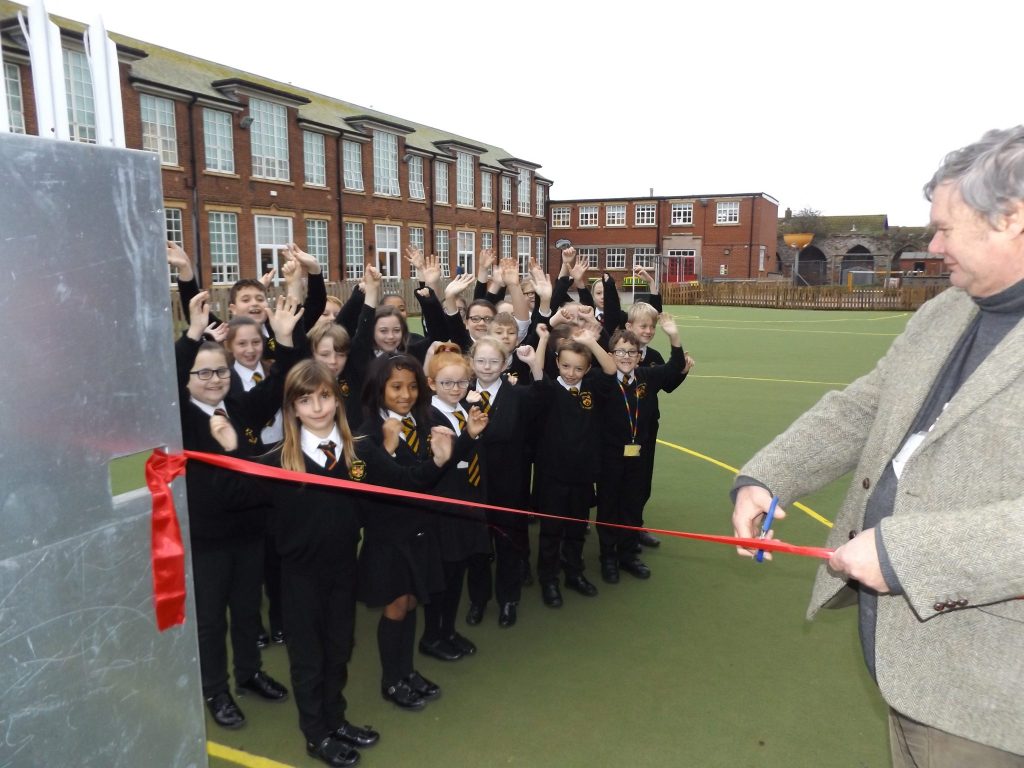 Quotes from the children about the sporting opportunities at St. Nicholas Priory.
Lewi – The Shin pads are great because they stop my shins getting hurt. Before the ball and sticks would hit my shins. I love hockey so I am not scared to tackle now.
Martin & Casper – Without a mini bus we would have had to walk to our tournament earlier than school starting. Making us tired before our games. We would then have to walk back after playing all morning, taking all day long!
Raine – It was the best day of my life wearing the Priory sports jacket. It was magic! We won the dodgeball league.
Ellie – It has helped having new netball posts and balls because we were using damaged balls and old posts we did not enjoy having. As a team, we respect our new equipment using it at break, lunch and after school. I am looking forward to our matches after lots of practise.
Klaudia – Having more than one long jump mat makes it quicker and easier to practise and improve my jumping skills before the indoor athletics afternoon. With one mat, we would have to wait for each other all the time. I am in Y5 now so want to make myself proud.
Alex B – Lunch has become more playful and less boring because we have more equipment for boys and girls. It is easier to play football now as there is less people per ball.