What is the Pupil Premium?
The pupil premium is additional funding given to publicly funded schools in England to raise the attainment of disadvantaged pupils and close the gap between them and their peers. The school receives money for children that are eligible for Free School Meals (or have been in the last six years; this is known as 'Ever 6') which was 206 children in 2015/16
Context of the School
Our school is a larger than average primary school with a current roll of 423 learners in a large coastal town with considerable deprivation, being amongst the 10% most deprived neighbourhoods in England. Severe deprivation is evident in the Nelson and Central wards where the majority of our learners come from. The school sits in the heart of the community we serve and overlooks the historic market place of Great Yarmouth. In 2013 90% of post-16 learners in Great Yarmouth took up full time education and the number of people in apprenticeships is above the national average. The average household income is below averages for Norfolk and the East of England and significantly below that for England.
Unemployment in the town is currently at 5.2%, higher than figures for Norfolk and England. The principal employers are the hotel, catering industries, shops and energy industry. Many of our EAL parents work in food processing with long hours a considerable distance from the town itself. Full time employment remains low compared in comparison to Norfolk and the Country but part-time employment is higher. Whilst the small energy sector offers the highest paid jobs in Norfolk local residents earn less than the regional and national average suggesting that many of the highest paid residents' children do not attend our school.
Data shows that the school population is changing and growing over time, with an increasing number of children coming in from ethnic minority groups and a continuously growing number of children with English as an additional language
As of 2016 we are a two form entry school in year reception, year 1, year 3 and year 4. Three classes in year 5 and four classes in year 6.
Our recent change of school motto, "There is no such thing as a finish line to learning" which was created by a Learning Ambassador in year 6, highlights our aspirational approach for all learners. We see ourselves as duty bound to provide the very best educational service to the community we serve because of the difficult context of the school yet where others may see challenge we see the potential to achieve for all.
We believe that our children need and deserve the highest standards of pastoral as well as academic provision. As such we have a pastoral worker, nurture leader, BIC team and a family support professional. We have specific rooms set aside for pastoral and nurture provision. Our free breakfast club is very popular with an average daily uptake of 49 learners.
Objectives of Pupil Premium Spending
At St Nicholas Priory C.E.V.A. Primary school we recognise difference, promote inclusion and constantly strive to address any difference in attainment or progress of pupil groups.
The Pupil Premium is additional funding given to publicly funded schools in English to raise the attainment of disadvantaged pupils and diminish the gap between them and their peers.
399 children on roll 2015-2016
423 children on roll 2016-2017
87 of pupils received the Pupil Premium 2015 – 2016
Pupil Premium Grant received
£ 261,260
How are we 'diminishing' the gap
Pupil premium funding has been used in a huge variety of ways including; small group and individual interventions (Extra lessons of literacy and numeracy), teacher / TA training and broadening and enriching the curriculum. The aim of this was to ensure all children from disadvantaged backgrounds, including free school meals were given the instruction, support and experiences they need to make the progress, typically, of children from more privileged backgrounds.
Please see the spending breakdown for a more detailed look at spending and impact.
Impact of Pupil Premium Grant Spending 2015 – 2016
This RAISE online data shows that the school has made gains in 2015 in combined attainment and in mathematics and writing. This table uses Average Point Scores, which is a conversion of the average grade into a score that can then be compared.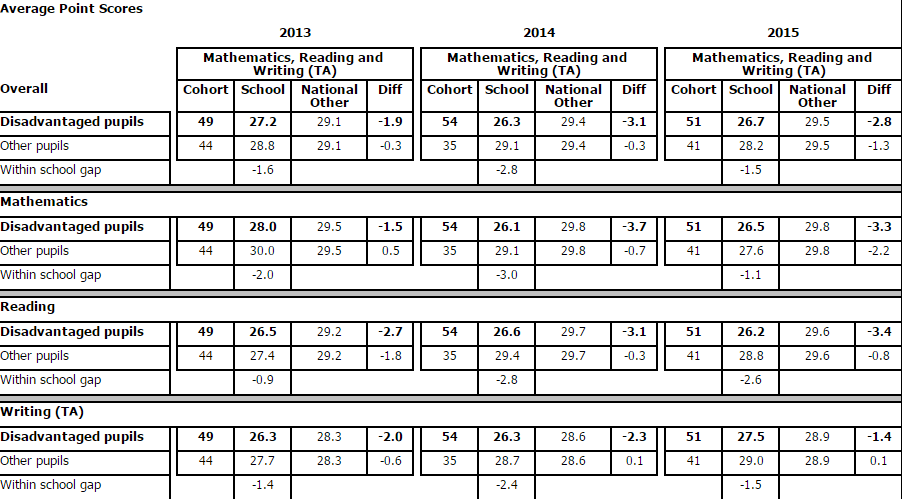 Over the last two years we have made significant improvements in the differences in achievement between Ever6 and Non Ever6 children, as illustrated by the table below.
| | | | |
| --- | --- | --- | --- |
| | Difference between FSM6 and Non FSM6 2014 | Difference between FSM6 and Non FSM6 2015 | Difference |
| All subjects | -2.8 | -1.5 | -1.3 (increase) |
| Maths | -3.0 | -1.1 | -1.9 (increase) |
| Reading | -2.8 | -2.6 | -0.2 (increase) |
| Writing | -2.4 | -1.5 | -0.9 (increase) |
| GP&S | -3.8 | -2.7 | -1.1 (increase) |
2016 -2017
We aim to continue successful provisions and improve some with a specific goal of accurately and regularly measuring the impact of all actions. With a budget of £244,200, the school is looking to improve academic support with focused groups and interventions. As well as this, further behavioural and pastoral support will be provided.